Part I of AIM Webinar Shines the Spotlight on Unattended Leasing & Touring Solutions
With stay-at-home orders in place and social distancing the order of the day, apartment communities everywhere are relying on digital-centered showing and leasing solutions like never before.
"Automated Apartment Tours and Leasing," a free, three-part webinar from the Apartment Innovation and Marketing Conference (AIM), is helping operators learn more about this technological landscape.
In Part I of the webinar, attendees heard from representatives of SmartRent, Tour24, Rently and Power Pro Leasing. The speakers discussed how COVID-19 is transforming the leasing process and enhancing the role of technological innovations that enable and enhance unattended prospect tours. And it's likely this transformation will continue long after the pandemic subsides, according to the PropTech thought leaders. (Click grid below to download)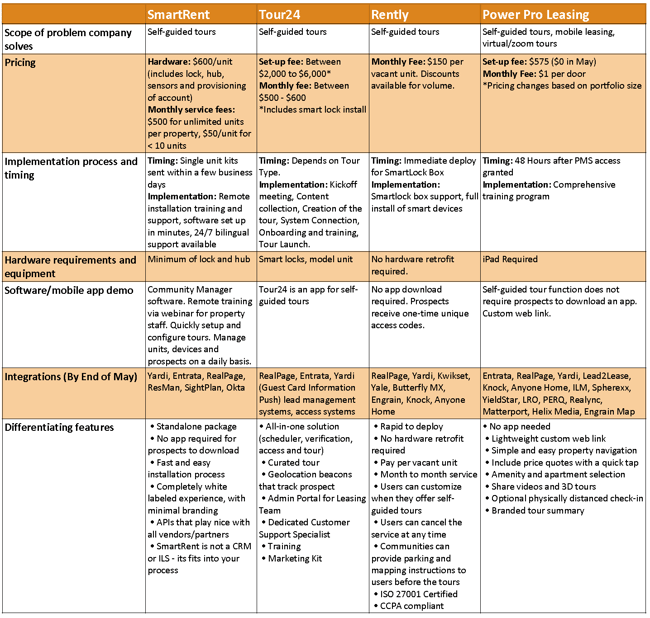 "I think everyone is changing the way they're approaching contactless leasing," said Georgiana Oliver, founder of Tour24. "It's definitely evolving, and it's evolving quickly. This is the time to be thinking about how we do things differently."
Tour24 is a self-guided-tour app. The solution verifies a prospect's identity and also allows them to book a tour. Once a prospective renter arrives onsite, the app guides them around the property and through model units. Once a tour is complete, Tour24 enables a prospect to begin the leasing process.
Demetrios Barnes, chief operating officer at SmartRent, agreed with Oliver that the apartment industry's desire to implement unattended leasing and touring solutions has dramatically accelerated because of the COVID-19 pandemic.
"We've been speaking on panels for years," Barnes said. "A couple of years ago, we were justifying why you would think about technology. Now the question we get is, 'How fast can we roll technology out?'"
SmartRent offers a wide range of solutions for apartment owners, including hardware and software that allows prospects to take self-guided tours. In his presentation, Barnes noted that the company provides remote training on how to use the self-guided-tour technology, which does not require prospects to download an app and also is white labeled.
Andre Jordan Sanchez, chief operating officer at Rently, said the pandemic, while stressful and challenging for apartment communities, also presents an opportunity for improvement.
"Despite all this madness, people are opening up more to technology," he said. "I think the biggest obstacle to change is the fear of change. And so, I think this is helping operators grow and explore different technologies that really help facilitate leasing."
Rently also provides self-guided-tour technology. Among the technology's differentiating features is the fact that it doesn't require a hardware installation and operators can cancel its use at any time, Sanchez said.
Power Pro Leasing was the fourth company to present during Part I. The supplier partner offers a mobile leasing app that onsite associates can use to, among other things, launch a Zoom call with a prospect. Power Pro also offers self-guided-tour technology, and its solutions allow associates to easily share videos and virtual tours with prospective renters.
In closing the webinar, Karen Gladney, co-founder of Power Pro Leasing, urged operators to take the time to carefully plan their embrace of digital showing and leasing solutions.
"I think the biggest thing is to really understand and think holistically about the experience you want to create for your prospects," she said. "Just knock out every bit of that and bring in partners that are best in class. I would stay away from people who try to do everything for everybody."