TikTok became the most viewed website in the world in 2021 and more and more it is becoming applicable to property management marketing.
In "Terrified of TikTok? - Overcome Your Fear and Master TikTok in 30 Days," Show My Property co-founders Anna Singleton and Christina Singleton led panelists Kira Brown, Senior Director of Marketing at Wood Partners; Ashley Fenlon, Vice President of Marketing and Customer Experience at Mission Rock Residential; and Annanias Rose, Vice President, Brand Strategy and Innovation at Grubb Properties; explained the process for those looking to get into the booming social media platform from scratch.
The session broke down strategy, filming, editing, posting and measuring the results.
So much of it focuses on "trending sound" because choosing the right audio drives so much of the TikTok's performance. It can be via a song, movie clips or celebrity sayings. "Just follow the channel and use what's trending," Christina Singleton said. At the same time, "you should be fun and daring," she added.

Here are more strong comments from the session:
Making "video shooting day" at your property a fun and engaging process; almost like a team-building exercise.
Use themes to your TikToks, such as "That Just Makes Sense" and then feature the properties highlights.
Track the traffic and engagement performance of this marketing like you would with Google, Facebook or Instagram so you can measure if the time and effort is worth it.
Test types of ad formats and ad copy to see what resonates best.
Fair housing is not applied to TikTok right now, but soon it's expected to be.

.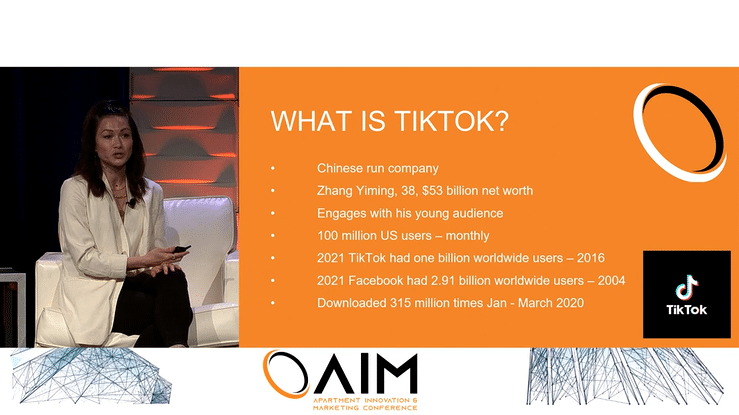 Click here to watch the replay.
Replays are $49 each or $399 for all of them.
They are complimentary for AIM attendees for the thirty days following AIM.
Click here for the slide.