The Future of Multifamily in 9 Startup Presentations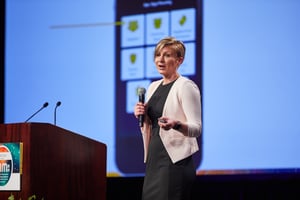 One of the benefits of attending the 14th Annual Apartment Innovation and Marketing Conference (AIM 2019), which took place at the Hyatt Regency Huntington Beach on May 5-8, 2019, is watching innovators demonstrate the Next Big Proptech. This year,
Frank Barletta, CEO and Co-Founder, UpTop
Sam Selby, Director of Business Development, Fernish
Melanie Colón, Co-Founder of Apt. App
Karly Doble, Chief Risk Officer and Head of Partnerships, Eusoh
Scott Hill, Executive Chairman and Co-Founder, PERQ
Erina Malarkey, Co-Founder and CEO, Remarkably
Ben Margolit, Co-founder & CEO, Rentgrata
Deepthi Krovvidi, Product Design Engineer, Bumblebee Spaces
Robert Turnbull, Partner & Co-Founder, BetterBot AI
brought their A game to the beach. While some were on point and others were provocative, all gave a glimpse of how much the rental industry has already changed.
Getting the message. Three innovators concentrated on helping various members of the rental community communicate:
A hybrid bot solution, BetterBot AI helps solve the proliferation of leads by creating engaging chats with visitors for the purpose of setting up appointments, with a success rate of 48%.
Calling itself a "resident referral program," Rentgrata introduces prospective renters to current residents, with the result of converting up to 65% of your property's website traffic into leases.
Can neighbor disputes be solved with anonymous communiques? Apt.App does it with a menu of pre-selected items ("Please turn down TV/music") that send "nice" requests for noise reduction et al. (Just one part of a suite of community facing solutions.)
Furnishing solutions. Two startups take creative approaches to the challenges of on-the-move professionals and smallish apartments:
Renters who frequently move tend to buy expendable furniture, which soon becomes landfill. But with Fernish, they can lease furniture from top stores like Crate & Barrel, and have the option of returning or buying the products.
Small apartments can feel bigger with space management. Bumblebee Spaces solves space problems by building furniture like beds, shelves, and desks into your ceiling, to be lowered as needed. See it to believe it.
Enterprising solutions. Property management is always challenging, but these platforms have found new solutions:
Styled the first "renter eco-system," UpTop streamlines the process for renters and property managers with and end-to-end platform combines ILS with property management software.
As a marketing data, analytics, and insights SaaS company for the multifamily market, Remarkably helps property managers take control and organize their inundation of data in order to make informed decisions.
While not a new company, marketing technology company PERQ is now bringing its Marketing Cloud to the multifamily industry, which can leverage PERQ's technological expertise to maximize digital marketing efforts and sales.
Outlier. Eusoh, a community-based, cost-sharing solution that began with providing pet owners with amenities like dog-walking and wellness programs, is expecting to expand into other facets of the residential community experience.