Part III of "Automated Apartment Tours" Provides Deep Dive on Digital Touring Technology
Before the coronavirus, many apartment operators considered video tours and other remote leasing tools as "nice to have." Now, they're "must haves."
"Automated Apartment Tours and Leasing," a three-part webinar from the Apartment Innovation and Marketing Conference (AIM), allowed attendees to get detailed descriptions of a variety of digital-centered showing and leasing solutions.
In Part III, attendees heard from representatives of LCP360, Zillow Group Rentals, Show My Property TV, VirtualAPT and Engrain. Here is the product offering comparison (click to download).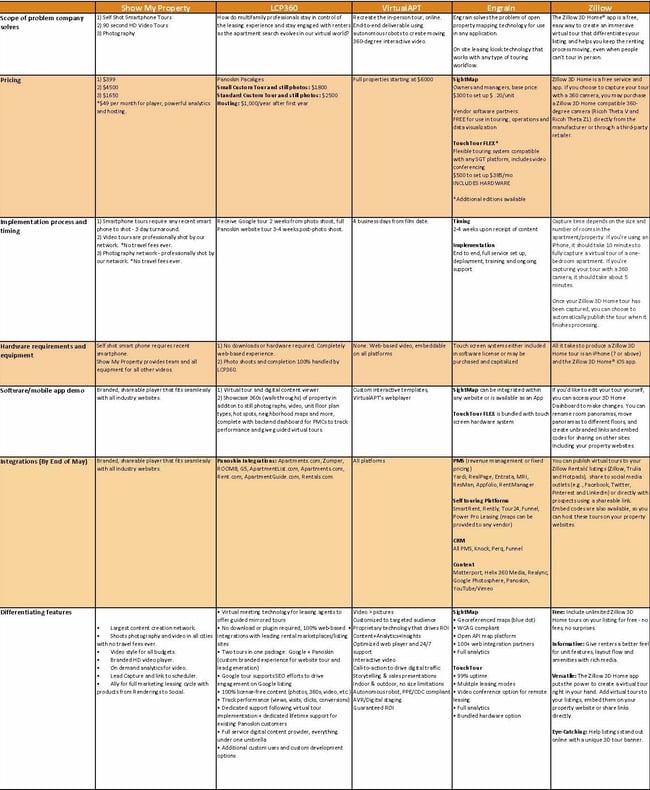 Wojciech Kalembasa, CEO of LCP360, focused his presentation on the company's Panoskin virtual tours, which consist of a series of still images of a property. Viewers learn about a community's floor plans and amenities while navigating the images, and they can access 360-degree views of apartment homes and common areas. The tours can be embedded on community websites, social media channels, Google Street View and other third-party sites.
LCP360 also provides detailed analytics, so that operators can comprehensively track user engagement with the virtual tours. Apartment communities typically see a 20% increase in website leads after installing a Panoskin virtual tour, according to Kalembasa.
"With COVID right now, we're seeing that you need this type of content," Kalembasa said. "Whether you buy it LCP360 or you get it elsewhere, it's extremely important to have it on your site so that you can cater to today's buyer."
Zillow Group Rentals provides a solution that allows apartment managers to produce 3D community video tours using a smartphone app. The videos can be embedded into a property website, shared on social media and incorporated into Zillow's network of websites.
While the pandemic has certainly increased the demand for video tours – there was a 153% increase in the uploads of Zillow 3D home tours in April, Ashkar noted – the appetite for such tools has been around for a while, he said.
In a Zillow survey taken last year, 47% of apartment shoppers said they wished more listings offered virtual tours and 84% were already using some type of online resources when searching for their next home. "There's clearly a healthy renter appetite for online resources," Ashkar said.
In response to the coronavirus pandemic, Show My Property TV also has introduced a solution that enables operators to create video tours with smartphones. The company edits the footage shot by associates with their phones to create 60-second videos; the turnaround time is three days, said Anna Singleton, founder Show My Property.
The company also produces professionally shot video tours and photography for community websites. Stay-at-home orders and social distancing mandates have curbed the production of professionally produced content over the past two months, but Singleton said operators will again need this kind of content in the future.
"While I do think these smartphone tours are great, I do believe that in the long run, after COVID, nothing beats a professionally shot, well-produced piece of content," she said.
Singleton also urged attendees to consider how video can enhance their social media outlets. "It is important and often overlooked to have consistent, short videos showing up all the time," she said.
VirtualAPT uses robots to efficiently film 4K, 360-degree video tours of apartment communities.
The tours include interactive floor plans and multilingual options, and users can use VirtualAPT to virtually stage vacant units, said Bryan Colin, co-founder and CEO of VirtualAPT. The company also provides a host of analytics to allow communities to evaluate user engagement with the videos and fine-tune their marketing strategies.
Colin said the company works to be a true partner with operators and to produce content highly tailored to their specific goals and individual situations. "It's a consultive process to see what we're trying to do for the property," he said. "Is it a new lease-up? Is it in a major city worried about people leaving? Is it trying to push social engagement? Then we create that content, building it toward that goal."
Engrain develops interactive property maps that can be integrated into community websites and self-guided tours. The company also produces a line of interactive touchscreen products that can be placed throughout a property; the touchscreens can be used to facilitate self-guided tours.
Engrain recently added geoawareness to its property maps. "We feel like this is a game-changer for self-guided tours because prospects can actually go to the property and see where they're at relative to the spaces they're supposed to tour," said Brent Steiner, founder and CEO of Engrain.
Steiner also urged attendees to perform strong due diligence in a time in which many operators are rapidly implementing digital-centered leasing and touring technologies.
"As we're working with our clients in the last 60 days, they're all testing different technologies and new things that are available," Steiner said. "We're encouraging them to get references on any technology that they try. Find other operators who are using the technology you're considering and make sure that everything is working as expected and then go from there."