The apartment industry continues along one of its most successful economic runs in years...
With occupancy high and rent increases being seen in nearly every market – some by more than 30 percent.
"It might seem like there's no end in sight," Joseph Batdorf, President at J Turner Research, said. "But those rent increases are coming. And they are going to be steep."
He and J. Turner Batdorf, Senior Strategist, at the firm, discussed the numbers during the session "How to Ride the Wave."
Renters also said that within six months leading up to the renewal date, they are thinking about renewal time and are willing to sit and have a conversation with their owners about the potential increase.
Apartment communities can help to retain their renters by engaging with them more. Batdorf said that, surprisingly, one in four renters don't know a single person who works at the property.
But if they do know the name of at least one onsite team member, their resident satisfaction rating increased by 22 percent and the trust they have with their community jumped by 24.6 percent.
In data collected in March, Batdorf said that while 21 percent of renters sense a hike of 10 percent or more, 45 percent said they believed their rent would stay the same or go down.

Here are more strong comments from the session:
The level of customer service quality has the strongest correlation to greater resident satisfaction.
Some 79 percent of residents listed amenities among their top two aspects of selecting an apartment.
Of those rating the community a 9 or 10 on a 10-point scale, "amenities" is a greater need than advanced technology, more services, more staffing or customer service in general.
When they rank satisfaction from 0 to 4, then customer service rises to the top.
While there is typically a "honeymoon period," communities typically see declines in resident satisfaction and trust scores nine months into the lease.
The No. 1 area residents would like to see at their property is for the community to make improvements.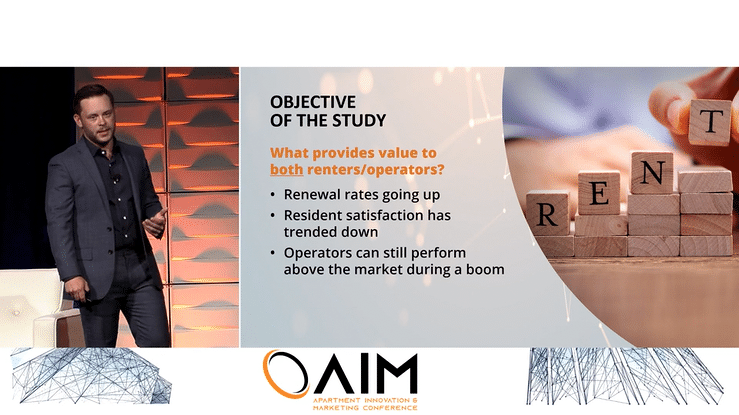 Replays are $49 each or $399 for all of them.
They are complimentary for AIM attendees for the thirty days following AIM.
Click here for the slides.
Download the J Turner Study here.