Your leasing teams intimately know your customer in a deeper way than you could ever discover from data or market research.
Apartment communities can benefit when they shift in the way those team members are trained and developed onsite to leverage that customer intimacy and think more strategically to create demand for your communities.
Sydney Webber, Customer Marketing Manager at Knock; Kristi Fickert, VP of Enterprise Growth; Angie Lombardi, Vice President of Marketing at The Franklin Johnston Group; Sarah Wieman, Senior Manager of Branding & Marketing at PRG Real Estate; explained how in the session, "Empowering The Next Generation of Marketers."
Before you object with "They already have enough on their plate," make minor and scalable shifts that can have a large impact on your business, how customers perceive your brand and their own career growth. By doing so, an operator can cross-train its leasing teams to be the next generation of multifamily marketers.
Keep in mind, Fickert reminds, "Most prospects are 'buying' your leasing team before they buy the lease, so you want them to succeed."

Here are more strong comments from the session:
Lombardi spoke of the outstanding efforts her leasing made to create fun and lively videos at one of The Franklin Johnston Group's seniors communities.
Wieman said it's more effective if you let your leasing teams do what they do best. "If someone has a talent for social media, enable them to use it. Always be an advocate for your staff," she said.
"Test, learn, iterate" is the ideal three-step process for effective marketing, Webber said.
Wieman encouraged management to follow the social media channels of their leasing team, especially any specifically charged with social media efforts. "They have their own social lives that you can [observe] and even get ideas from. They bring those [social personalities] to their jobs every day," she said.
Lombardi said having your team make their own TikTok videos can be a fun, team-building experience. "We have employees who might go down to the playground in the middle of the day to get a break," she said. "It's funny to see well-dressed adults sliding down the slides. Work needs to be fun. You spend more time in the office than at home sometimes."
When touring, the panel said to avoid simply saying, "Here is out kitchen." Well, of course it is Lombardi said. "Make it more exciting and personal by pointing out things that make your kitchen special," she said.
Wieman has only two staff members and one intern on her team. She has created a Canva dashboard that welcomes others to contribute to the efforts. "It almost makes it feel like you've doubled your department's size," she said.
Lombardi applauds the ability for residents to self-schedule tours. "About 92 percent of prospects who do actually show up for tour," she said.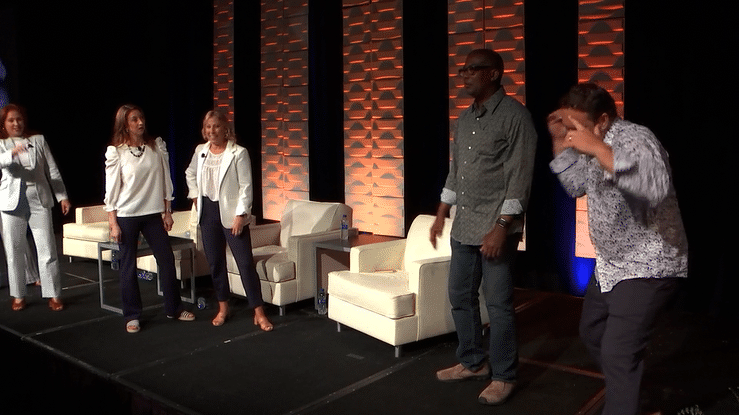 Click here to watch the replay.
Replays are $49 each or $399 for all of them.
They are complimentary for AIM attendees for the thirty days following AIM.
Click here for the slide.