With apartment demand from consumers and investors continuing in full force in 2022...
There's plenty of opportunities for new companies and established ones to build their customer bases.
What does it take to get those appointments? More importantly, what do supplier partners need to convey to win the business?
John Selindh, VP of Strategic Partnerships TRIPLE R MARKETING, moderated a fascinating panel that included Joya Pavesi, Vice President of Marketing + Strategy at RKW Residential; Lynn Klug, Senior Director, US Strategic Property Marketing at Greystar; and Nicole Conniff, Vice President of Marketing at single-family-home rental provider Tricon Residential.
Yes. They named names (watch the recording) when providing:
The inside scoop on what tech benefits multifamily and what is just "cool."
How to decide what your communities need vs. what vendors say you need.
What should companies understand about vendor partners besides price?
How to get buy-in from management on new tech tools and products.
What MarTech solutions are moving the needle at leading companies?
What tech does multifamily need that no one is offering yet?
Pavesi said, "Everyone is using the same buzzwords and talk track: innovating, disrupting. There's not a lot of differentiating between these firms. Dream team… start with your value proposition and change your talk track. Be really clear on your value proposition compared to those of your competition."

Conniff said, "Word-of-mouth marketing is important. These endorsements are valuable. I want you to know my business better than I know my business. You aren't just selling for today. You have to be ahead of things and be able to anticipate your clients' or potential clients' needs and be there before they are there. This will get your foot in the door. Act with integrity. Then, when you show us that, we than move that word-of-mouth forward to others."
Klug said, "You need a one-sheeter that lays out what you did for a comparable client of ours and the lift they got from it."
Here are more strong comments from the session:
Pavesi said it's important to pull in all the company's departmental executives and hold technology needs planning sessions for 12 to 24 months ahead of implementation. Aligning all business units helps to address pain points. Looking at tech tools, discover where there could be a chance for competitive advantages?
Don't overwhelm your onsite teams during the onboarding, Pavesi said. Have less than a handful of rollouts per year and determine who on staff is going to 'own' the project through its completion.
Conniff said to be open-minded to technology outside of the multifamily industry.
For Greystar, and its 750,000 units, there are often stumbling blocks to the approval process.
Klug said Greystar has SMEs throughout the company who help to make the call, not just one person overseeing it all.
Conniff quipped, "Necessity is the mother of invention – even if it's a pandemic."
Among the technologies in need, the panel shared: drones to drop packages; pulling all of a company's systems into one platform -- more than just single sign-on -- solve for tech sprawl; and creating prescriptive reporting -- not just aggregating, and visualizing data -- but taking it to the next level so that these systems can aid decision-making through business intelligence (even AI).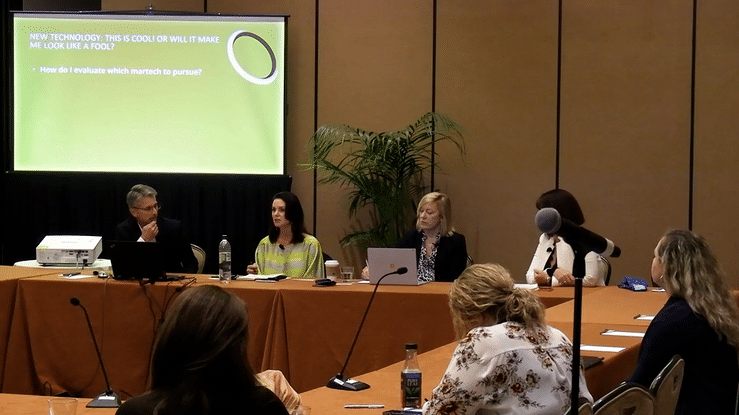 Replays are $49 each or $399 for all of them.
They are complimentary for AIM attendees for the thirty days following AIM.
Click here for the slides.