The marketing department is playing a more leading role...
In the corporate office as marketing executives are gaining that proverbial "seat at the table" more and more.
Marketers are able to contribute to conversations – and decisions – in most every department of leading companies by bringing information and proven strategy to the mix, related to acquisition strategies, improving the customer experience, technology evaluation, implementation, and technology investment.
Marketing in 2022 requires a diverse skill set and a seat at the investment decision making table and Kelley Shannon, Senior Vice President, Marketing and Customer Engagement at Bozzuto; and Gigi Giannoni, SVP of Customer Experience at Gables Residential; discussed those topics with moderator Carol Enoch, CEO at Enoch & Co, during "Managing Your Investments in Marketing: Service Providers, Talent, & PropTech."
"Marketing touches just about every aspect of property management," Shannon said. "From rents to design to amenities to development."
Well, it might not be the leads, but instead, the conversion strategy, Enoch said. "Marketers need to explore, solve and see what comes from it," Giannoni said.
Giannoni said marketers often must educate the C-suite about marketing efforts and their value. No more is the marketing department one that is simply told, "You need to drive more leads!"

Here are more strong comments from the session:
Giannoni said younger marketers looking to move up should be curious about what other departments are doing. "Go in humbly and ask, 'I want to learn more about (this process or problem) and then understand it and present a way that marketing could help to solve it."
Shannon said a good first step is to consider what's good for the customer and then work to provide for that. "You don't want to just say, 'What are we capable of doing, and then set out to do it.' "
When first presenting strategy "at the table," Shannon said it's important to "know your resources, the ROI, the timeline and the results you have to achieve. And it must be executed through teamwork."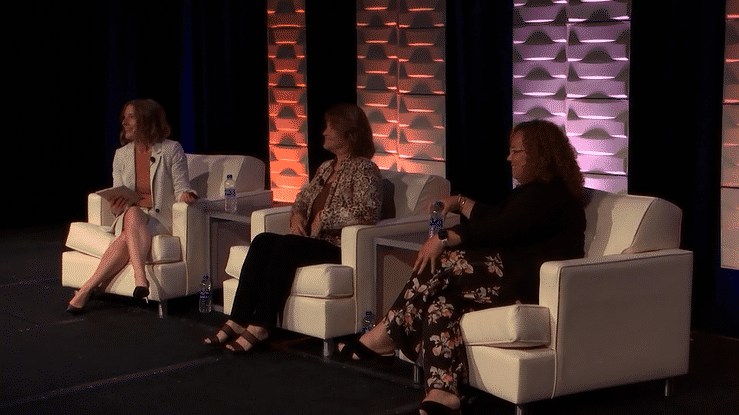 Click here to watch the replay.
Replays are $49 each or $399 for all of them.
They are complimentary for AIM attendees for the thirty days following AIM.
Click here for the slide.