Five startup companies were invited to take the stage to share their companies' stories.
Kari Warren, Chief Operating Officer - Management at Kairoi Residential; and Mark Chrisman, Managing Principal at 29th Street Ventures; hosted the event that featured Marcus Higgins, Chief Operating Officer at Landing; Lily Liu, Chief Executive Officer at Piñata; Fatima Dicko, Founder and CEO at Sugar; Kerri Davis, Founder & CEO of Fortress; and Jude Chiy, Founder & CEO of Flamingo
Piñata
Provides financial incentives to residents who do things such as pay their rent on time (in any transactional manner), comment on review sites and other good behaviors.
Incentives include $100 in value through gift cards and rewards programs such as receiving 20 cents on gas and $30 when shopping at Costco, among other things.
Clients can customize the incentivize based on things they want their renters to take action on.
No integration needed because Pinata operates from its own app, and customers can brand it with their company logos.
Helps residents improve their credit score by posting their rental payment history with the major credit bureaus.
Provides data on your renters' behavior.
Landing
Partners with property management companies who can earn revenue via Landing's furnished flexible-living apartment homes network across all major markets for renters.
Minimum stay is 30 days and residents can then move onto whatever market they want to live next either for work or play.
It's in approximately 375 cities, covering 24,000 apartment homes and is 92 percent occupied.
Residents needn't have to deal with annoying packing, moving vans, utility changes or recurring security deposits. It takes about 5 minutes to move in to a new residence.
There are never any deposits or application fees. Members can save up to 40% compared to the cost of other furnished housing options.
Landing has three times the housing inventory as short-term rental providers and at about one-third of the cost.
Sugar
It's a resident services app that addresses many necessary apartment living functions by combining the features of the leading consumer apps and merges them with property management companies.
A sense of community is so important for renewals. If they get to know three people who live in an apt, the chance for renewals goes way up.
It integrates with residents' personal calendars so they can track important dates such as when service requests are being filled or things are due.
It tracks resident data and there's a manager portal that displays analytics so that managers can work more efficiently.
"It's more than just a way to pay rent, it helps residents connect as friends or to help out fellow residents by doing dog-walking, etc, said Fatima Dicko, Founder and CEO at Sugar.

Fortress
Originated through it serving as the property management system for Elmington Property Management company as it goes through "crazy growth mode." Clients now represent 35,000 apartment homes.
The best way to describe it is that it's truly an operations platform – not one driven by a back-end accounting system.
Its focus is guest cards, applications, texting and emailing prospects, centralizing work orders, and more. Walker & Dunlop invested in Fortress six months ago, saying, "this is a huge opportunity in the industry."
It solves clients' biggest pain points: Training onboarding and support; transparency for all employees; and modern access to data through easy-to-use, centralized, automated functions that deliver real-time, actionable data.
100 percent of its users say it's "easy"; 88 percent say they would recommend it over top brands; and 79 percent say Fortress saved them an hour or two hours per week versus big brands.
Soon-to-be product updates to include in-system revenue management and reputation management functionality.
Flamingo
Residents don't want to have to deal with a dozen or more apps to live at a community.
It's one app for the full resident journey; whether to pay rent, reserve amenities and much more.
So many processes at the site level today are menial and are performed manually at the site level; staff are tired of doing them every single day.
The app is being used at more than 1,000 communities, helping those site teams have more time to drive resident engagement and provide service.
Flamingo launched at start of pandemic at the Atlas Oakland (CA) community. Given the paradigm shift that COVID-19 created, Atlas needed one app to solve most functions during that time and now that strategy has carried to today.
It integrates with Butterfly, Yardi, Parcel Pending and KeyMo, among other software, driving automation and self-service options.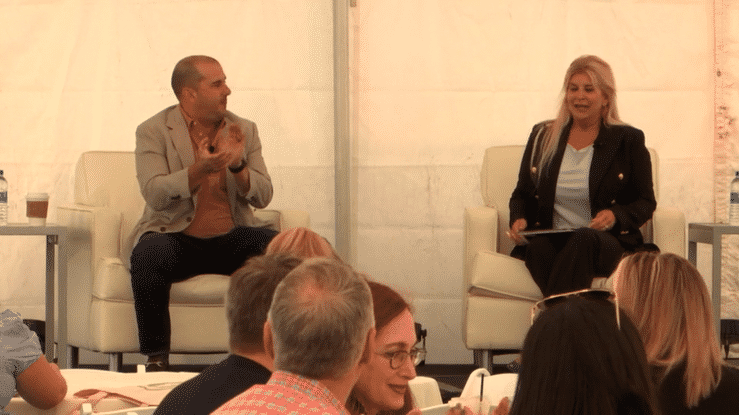 Replays are $49 each or $399 for all of them.
They are complimentary for AIM attendees for the thirty days following AIM.
Click here for the slides.